He's making a list. Checking it twice!
Going to find out who's been good & been nice!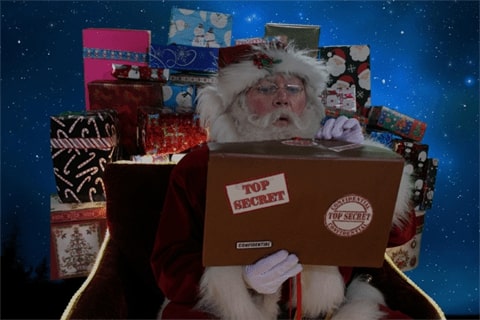 About Santa's
Nice List
on emailSanta.com

Sherlock Elf is always watching to see who should be on Santa's Nice List. Check below for who is on Santa's Nice List right now! Sherlock Elf also has some tips on getting onto the good list for Santa Claus.

Why, there's even a way for you to send a Nice Report about someone who's being good! Then they can get on the Nice List too. That way they can leave out their Naughty or Nice List Certificate for Santa to see on Christmas Eve. Wouldn't that be nice!
Good Things
To Do
To Get On The Nice List
Here are the Top 10 things on Santa's Good List that girls and boys are doing right now! (It changes all the time.)
• They were nice to their little sister
• They were nice to their little brother
• They tidied their room
• They ate all their meal
• They played nicely with a friend
• They helped make supper
• They took their dog for a walk
• They were a good friend to someone
• They brushed their teeth without being told
• They were good at sharing

When Sherlock Elf sees someone doing one of these or other good deeds, he sends a Nice Report to Santa Claus at the North Pole right away. (Find out how you can send Santa a Nice Report too!)

Santa checks the report twice and then it goes into his Naughty or Nice book!
How Do You Get On
Santa's Nice List
(Top 10 Classic Ways)
Here is the ultimate classic list of things you can do to get on Santa's Nice List and make the world a better place at the same time! Each item in this Classic Nice List gives an example of how to do it too.

See you on the Nice List!
• Make the world a gentler place! Be nice to family, friends, neighbours, strangers and animals.

• Make the world a nicer, more generous place! Donate your time, money or resources to a Christmas Charity.

• Make the world a safer place! Politely speak up when someone is being a bully or lying.

• Make the world a friendlier place! If someone does something you don't like, turn the other cheek and think of something good instead.

• Make the world a kinder place! Remember Santa and do random acts of kindness.

• Make the world a more beautiful place! Pick up some litter and put it in the garbage.

• Make the world a more appreciative place! Give a First Responder a friendly wave, cup of coffee or plate of Christmas cookies.

• Make the world a more respectful place! Treat everyone as a real person, even if they are different from you (The Golden Rule).

• Make the world a happier place! If you start feeling sad or angry, smile instead. Things will change!

• Make the world a more Christmassy place! Spread Christmas Cheer throughout the year!

Send A
Nice Report
to Santa Claus
Can you help Sherlock Elf? Just let him know if you see someone who is being nice or who is doing something good.

The elves want to keep this webpage family-friendy. That means they have to check every report. Because of that, the elves ask for a small donation to keep this page safe. You have to be 18 or over to send a Naughty or Nice report.

Click here to send a 😇Nice Report😇 to Sherlock Elf and Santa Claus! (You can send 😈Naughty Reports😈 there too.😉)