Play


Santa's Reindeer


Word Search Game!
If you easily read this message, your AdBlocker is preventing this site from loading properly. Turn off AdBlocker and join in the Christmas fun!
Now Dasher, now Dancer, now Prancer and Vixen!
On Comet, on Cupid, on Donner and Blitzen!
But can *you* find Rudolph's red nose?
(it glows)?
Santa's Reindeer
Word Hunt
game!
Click the image or link below to download the Santa's Reindeer Word Finder puzzle.  Print it and look for the glowing red nose!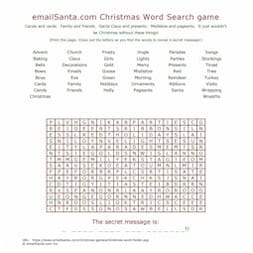 Santa's Reindeer Word Finder Game.pdf

Word List for
Santa's Reindeer
Word Search game
Can you name all of Santa's Reindeer?  Maybe this list of everything to do with Santa's Reindeer can help!  Find these Reindeer words in your puzzle after you print it.
Antlers
Away
Bells
Blitzen
Buck
Christmas
Clarice
Cupid
Dancer
Dash
Dasher
Doe
Donder
Donner
Eight
Eve
Fly
Foggy
Food
Games
Glee
Glows
Guide
Hay
Hooves
Land
Laugh
Lead
Magic
Names
Nose
Now
Olive
Play
Prancer
Pull
Rednose
Reindeer
Reins
Rooftop
Rudolf
Rudolph
Santa
Shiny
Sky
Sleigh
Tail
Tracks
Vixen
Word Finder
Secret Message
clues for you!
Find all the words about Santa's reindeer in your Word Search game.  The elves have put the words here and on the Word Find puzzle you can download.  When you find the words about Santa's reindeer, cross the letters off your sheet.  When all the words are gone, write the left-over letters in the spaces at the bottom of the puzzle.  The letters will reveal a secret message about Santa's reindeer!
All About
Santa's reindeer
(more links!)
Do you like reindeer as much as Santa Claus does? Would you like to learn more about Santa and his famous reindeer? Well, here are some more links on emailSanta.com about Santa's reindeer:
Reindeer webcam
Put on your sunglasses and see that world famous shiny red nose on the 'Rudolph-cam'!
Reindeer Barn photos
These photo albums have Christmas pictures of the Reindeer Barn!
Vote for your fav Reindeer
Vote for your fav reindeer to guide the sleigh this year!
Send your pet's letters to Rudolph
Even pets can send emails to Rudolph and get a reply! Bark ~meow~ woof!!
Reindeer Jokes!
These reindeer riddles will sleigh u!
Santa's Reindeer FAQ
Some answers to your questions about Santa's reindeer!
More Fun
Word Find
games for you!
Here are all the other Word Search games on emailSanta.com. Some of these Word Find games are on-line, some Word Seeks are downloadable. Some FindaWord puzzles are easy, some WonderWords are hard. But all of these games (no matter what you call them!) are full of Christmas fun.
Santa's Online Word Find Games & Puzzles
Santa's Easier Printable Word Find Games & Puzzles
More Difficult Printable Word Find Games & Puzzles