Play the elves'


"Merry Christmas"
Word Finder Game!
If you easily read this message, your AdBlocker is preventing this site from loading properly. Turn off AdBlocker and join in the Christmas fun!
Mele Kalikimaka!  Feliz Navidad!
God Jul!  Froeliche Weihnachten!
Buon Natale!  Sung Tan Chuk Ha!
That's Merry Christmas in many languages!

...and Merry Christmas to you too!
How many ways can you say "Merry Christmas"?  The elves know a lot of ways.  They thought it would be fun to make a game out of them.  Click on a "Merry Christmas" Word Find game below.  Then print it!  Cross out the letters in your Word Finder puzzle when you find the words.  When you've found all the letters, can you solve Santa's secret message?
Bon Natali!

Merry Christmas
Word Hunt
puzzle!
Click an image or link below to download a special "Merry Christmas" Word Finder puzzle. Then print it!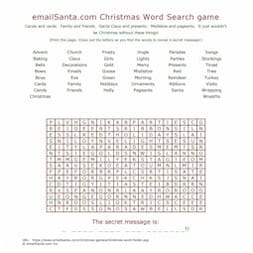 Merry Christmas Word Finder Game.pdf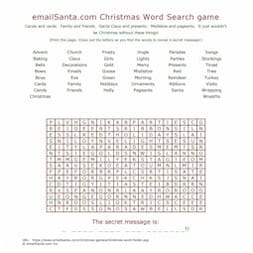 Merry Christmas Word Finder Game2.pdf

Word List for
Merry Christmas
Word Search game
People say "Merry Christmas" in many ways around the World!  Here's a list of all of them used in these Word Hunt puzzles!  (How do YOU say "Merry Christmas"?)
Boas Festas (Portuguese)
Bon Nadal (Catalan)
Bon Nadal (Galician)
Bon Natale (Corsican)
Bon Natali (Sicilian)
Bonu Nadale (Sardinian)
Buon Natale (Italian)
Chuc Mung Giang Sinh (Vietnamese)
Craciun Fericit (Romanian)
Feliz Navidad (Spanish)
Froehliche Weihnachten (German)
Geseende Kerfees (Afrikaans)
God Jul (Swedish)
Gozhqq Keshmish (Apache)
Gute Vaynakhtn (Yiddish)
Hauskaa Joulua (Finnish)
Idah Saidan (Iraqi)
Joyeux Noel (French)
Kala Christougenna Kieftihismenos (Greek)
Linksmu Kaledu (Lithuanian)
Mele Kalikimaka (Hawaiian)
Merry Christmas (English)
Mo'adim Lesimkha (Hebrew)
Nadolig Llawen (Welsh)
Nollaig Chridheil (Scot Gaelic)
Nollaig Shona Dhuit (Gaelic)
Selamat Hari Natal (Indonesian)
Selamat Hari Natal (Malay)
Seng Dan Fai Lok (Cantonese)
Shubh Naya Baras (Hindi)
Sretam Bozic (Serbian)
Sretan Bozic (Croatian)
Streken Bozhik (Macedonian)
Suksan Wan Christmas (Thai)
Sung Tan Chuk_Ha (Korean)
Vasel Koleda (Bulgarian)
Vesele Vianoce (Slovak)
Veseloho Vam Rizdva (Ukrainian)
Vrolijk Kerstfeest (Dutch)
Wesolych Swiat (Polish)
Zalig Kerstfeest (Flemish)
Word Finder
Secret Message
clues for you!
Find all the words in your puzzle.  The "Merry Christmas" words are listed above and on the printed puzzles.  Cross off the letters in your puzzle as you find the words!  After you find all the words, some letters will be left.  Write the letters in the blank spaces at the bottom.  Then you will know Santa's Secret "Merry Christmas" Message!
Happy Merry Christmas Word Hunting!
More Christmas
Around the World
at emailSanta.com
Everything for a Merry Christmas!
Glad tidings we bring, to you and your kin! Glad tidings for a Merry Christmas and a happy New Year!
Online Christmas Word Find Game
It's a new Christmas Word Find Game every time you play! Check out the online interactive version of the Christmas WordSearch Game!
Christmas Webcams Around the World
The elves don't want to give away any secrets about how they know who is being Naughty or Nice.
But, you can watch Christmas webcams around the world and decide for yourself!
More Fun
Word Find
games for you!
Here are all the other Word Search games on emailSanta.com. Some of these Word Find games are on-line, some Word Seeks are downloadable. Some FindaWord puzzles are easy, some WonderWords are hard. But all of these games (no matter what you call them!) are full of Christmas fun.
Santa's Online Word Find Games & Puzzles
Santa's Easier Printable Word Find Games & Puzzles
More Difficult Printable Word Find Games & Puzzles