Yummy!


Christmas Baking & Cooking


Word Finder Game!
Turkey, gravy, mashed potatoes.
Plum pudding, glogg and cookies.

(Just looking at these words about Christmas baking and Christmas cooking gets me hungry!)
Christmas Baking
Word Search
puzzle!
Click the image or link below to download Mrs. Claus' Christmas Baking & Cooking Word Find puzzle.  Then print it and eat it!  (Oops!  I mean play it!)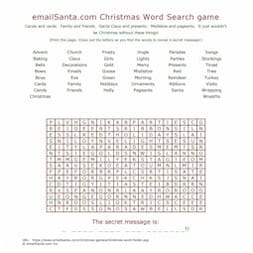 Christmas Baking & Cooking Word Finder Game.pdf

Word List for
Christmas Baking
Word Search game
Mrs. Claus makes some of the best food around!  Find these words of what Mrs. Claus is cooking in her kitchen this Christmas!  No drooling!
Appetizer
Baking
Buns
Candy Canes
Cheese
Cider
Cookies
Cranberries
Dessert
Duck
Eggnog
Figgy
Fruitcake
Fudge
Gingerbread
Glogg
Goose
Gravy
Ham
Holly
Jello
Mashed
Mincemeat
Mulled
Nutmeg
Nuts
Panettone
Pepper
Pie
Plum
Potatoes
Pudding
Pumpkin
Punch
Rumballs
Salad
Salt
Shortbread
Spice
Stars
Stuffing
Tarts
Tea
Tourtiere
Tray
Trifle
Turkey
Wassail
Yams
Word Finder
Secret Message
clues for you!
Find all the yummy Christmas baking and cooking words in your Word Search game.  The words are listed above and on the cookie sheet.  Oops! The game sheet!  Find the words and eat the letters, oops again, I mean cross the letters off your cookie sheet.  (I did it again didn't I?)  There will be leftovers!  (Letters, silly! Not Christmas baking!)  Write the left-overs in the blank dishes (or spaces, but they look like dishes to me!) at the bottom of your game page.  The letters make up a secret, yummy message about Christmas baking and cooking!  (I think I need to go have a cookie now!)
More About
Mrs. Claus
at emailSanta.com
Mrs. Claus's tweets are treats!
Mrs. Claus' tweets are almost as sweet as her treats! You can watch her text Santa and the elves here:
Mrs. Claus FAQ
We ❤️ Mrs. Claus' baking and cooking almost as much as we ❤️ Mrs. Claus! Here is an answer to one of the most common questions Mrs. Claus gets asked about:
More Fun
Word Find
games for you!
Here are all the other Word Search games on emailSanta.com. Some of these Word Find games are on-line, some Word Seeks are downloadable. Some FindaWord puzzles are easy, some WonderWords are hard. But all of these games (no matter what you call them!) are full of Christmas fun.
Santa's Online Word Find Games & Puzzles
Santa's Easier Printable Word Find Games & Puzzles
More Difficult Printable Word Find Games & Puzzles