Live Christmas Webcams


Around the World!
Ever wonder how
Santa always knows
whether you've been Naughty or Nice?
Well, the elves don't want to give away any secrets, but here's a few Christmas Webcams live streaming from cities around the World (you can watch for kids being naughty or nice too). Now, enjoy some wonderful Christmas spirit from countries around the globe!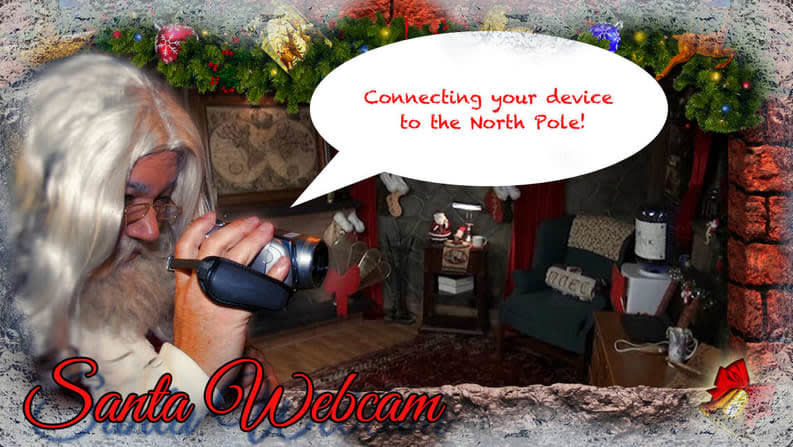 A Web Cam Tip
From Santa
to protect children
NOTE FROM SANTA: Adults should view the webcams first before sharing with children -- just in case the link has been changed to show something that wouldn't make Santa's Nice List. (Pre-screening links on the Internet is always a good idea!) Also, you may be required to download special viewing software to see some locations.
Santa's Claus'
North Pole Webcams
24 hours a day!
~ LIVE online from the North Pole! ~
~ Watch the Santa Claus webcam live from the North Pole ~
*** The Santa Webcam ***
~ Watch Santa deliver presents LIVE Christmas Eve! ~
*** The Santa Tracker ***
Plus exclusive video footage of Santa doing his chimney exercises!
Choose your connection type:
slow (Windows Media format, 200 KB) or
fast (MPEG format, 2.4 MB).
Live Streaming
Christmas Webcams
by Country and City!
Tweet About
Christmas Webcams
on emailSanta.com
Get on Santa's Nice List and share this page of Christmas Webcams with family and friends. Just tap the Twitter icon below for a special message to tweet.
Then see more fun things to Tweet from emailSanta.com!
After that, check out what everyone at the North Pole is tweeting & texting to each other. Those elves are so silly!
Don't Miss The
Christmas Fun!
Get Your Reminder!