If you easily read this message, your AdBlocker is preventing this site from loading properly. Turn off AdBlocker and join in the Christmas fun!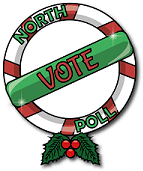 "You know Dasher & Dancer and Prancer & Vixen, Comet & Cupid and Donner & Blitzen.  But here's your chance todaaay to decide who'll guide Santa's sleeeeiiigghhhh!"
Vote for who you want to guide Santa's sleigh Christmas Eve!

All the reindeer got together and decided that it would be fun to let everyone in the world decide who should guide Santa's sleigh this year!  (It was actually Rudolph's idea).
So choose your favourite reindeer and, weather permitting (see the legal notices  below), the reindeer with the most votes will lead Santa's sleigh this Christmas!  The reindeer ask that you vote only once a day (otherwise you might end up on Santa's Naughty List! *wink*).
Merry Christmas!


Voting closes at 12:00 on December 22, 2023 Santa Central Time!!

(After you vote, you can tweet to tell everyone! Just look for the button!)
Legal Notices:
Voting results are tabulated by the accounting firm of Elf, Elf & Galoshes.  Santa Claus and the reindeer gleefully agree to abide by the results of this North Pole Christmas Poll with the condition that Rudolph shall guide Santa's sleigh should the weather on Christmas Eve, in Santa Claus' sole opinion, require it. (Think of it as a Santa "clause " *wink*).
Otherwise, all terms and conditions relating to Christmas are in full force and effect as per the usual Santa Claus clauses.
Check out Santa Claus' Christmas Blog for more stories about his reindeer!