Did someone ask "Where is Santa Claus"?
Well, if you really wanted to track Santa ...
you've tracked down the right place!



🐰 Track the Easter Bunny! 🐰


⏰ 170 sleeps to Christmas Eve 2020! ⏰


Santa, Mrs. Claus, elves and reindeer are getting ready for the big night.

Scroll thru this page to see some of the fun things that happen here on the 2020 Santa Tracker every day of the year, including Christmas Eve when the Santa Tracker becomes the Santa Snooper!

🎅 Video from Santa's big flight
🎅 Count down to Santa visiting you
🎅 Where was Santa Claus' last stop
🎅 Where is Santa Claus right now
🎅 Where is Santa Claus going next
🎅 Watch the Santa Claus cookie cam
🎅 Read silly Christmas Eve tweets
🎅 Get Live Naughty & Nice Updates
🎅 Check Santa's cookie supply and magic
🎅 Post your photos to the cookie cam
🎅 Share your Christmas messages
🎅 Email a last minute letter to Santa
🎅 And more fun things to do Christmas Eve!


There are many great ways to track Santa in 2020.

You can see what Santa Claus is doing every minute of every day. This includes where he's been, where he is now and where he's going next.

Here is how you can track Santa:


Scroll down! The Santa Tracker 2020 (this page) shows you where Santa is right now and what Santa is doing every day of the year.

You can see Santa Claus live at the North Pole on Santa's Webcam.

You can follow Santa Claus Christmas Eve. That's when the 2020 Santa Tracker becomes the 2020 Santa Snooper with live Santa updates.


Watch video from the Santa Claus sleigh tracker right here!
Here's a Santa Snooper sample from last Christmas Eve:
(There's a lot of magic in this page so make sure to use WiFi & not your data!)
Twas days before Christmas
and at the North Pole,
Santa was checking
his Naughty / Nice scroll.
The elves came a running
(as fast as they can).
They had something awesome.
They had a webcam!
"It goes on your sleigh",
they shouted with glee.
"On Christmas Eve,
for the whole world to see!
With a tap of the screen,
so lively and quick,
They'll snoop on old Santa,
on Jolly St. Nick.
And what to their wondering eyes
will appear,
but Santa in sleigh
with gifts and reindeer."
"I'll be munching on cookies
and delivering toys
I'll be checking my emails,
from good girls and boys!"
So check out my Snooper
At emailSanta.com
It's great! It's super!
I think it's the bomb!
Merry Christmas! HHHOL!
It may not be Christmas Eve, but Santa is still very busy. So what was Santa Claus just doing?




Santa's Last Stop:

Laughing at Frosty the Snowman jokes




Come back Christmas Eve, to see the last place Santa just visited (plus a few surprises -- like the ones here 😉)!
Right now, Santa Claus is
At The North Pole
(click to watch him live on the Santa webcam!)


Santa Tracker
Latest Update:
08 July 2020
04:55:47
Santa Central Time
So where is Santa Claus right now?
Right now, Santa Claus is at the North Pole.
Would you like to know what Santa is doing?
He is giving one of his reindeer a carrot!
(Those reindeer sure do love their carrots!)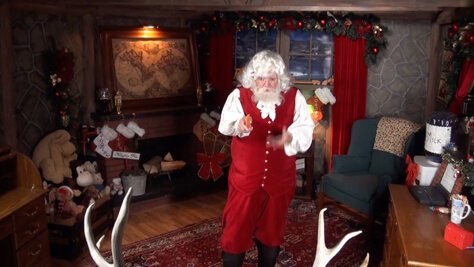 Keep watching for Santa Tracker Updates right here on this webpage!
There are 170 days to Christmas Eve, so Santa is busy getting everything ready. What is Santa Claus doing next?




Santa's Next Stop:

Giving a kiss to Mrs. Claus




Christmas Eve, you can see where Santa is going next right here!
Santa loves all the yummy food and drink that everyone leaves out for him Christmas Eve (well, except for that one person who always leaves out a smelly sock and the other person who always thinks its Easter).

He thought it would be fun to start taking photos of all the treats he gets around the world. (Mrs. Claus thinks its because he likes to tell her which ones she should get the recipe.)

Here are a few photos that Santa took last Christmas Eve. Yum!

Come back Christmas Eve and watch Santa post more photos on his "Cookie cam". (Now that should prove something to anyone who has doubts!)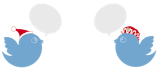 Watch those silly elves test the Elf Control Christmas Eve Tracker Tweet System right here!


The elves send Santa updates right to his sleigh on Christmas Eve! They tell him who is being naughty or nice. Of course Santa checks it twice (sometimes thrice if they're NOT being nice)!

Remember, it's never too late to get on Santa's Nice List!

---
Last minute reports from the Noddy N. Nice Elf Detective Agency appear right here!
---
This Christmas Eve, you can upload your photos to show Santa what treats you are leaving out for him!
(If you leave your treats out for Santa now, they might not taste very good on Christmas Eve! 😉 )
Here are a very few of the photos uploaded from last year.
Thank you for your wonderful messages to Santa Claus and the World!

Santa Claus is back at the North Pole now.

Make sure to come back Christmas Eve 2020 to read and share wonderful Christmas messages with people all over the World, right here!

(moderated by Santa's elves so it's family-friendly.)