Remember, it's never too late to do something nice
and get off the Christmas Naughty List!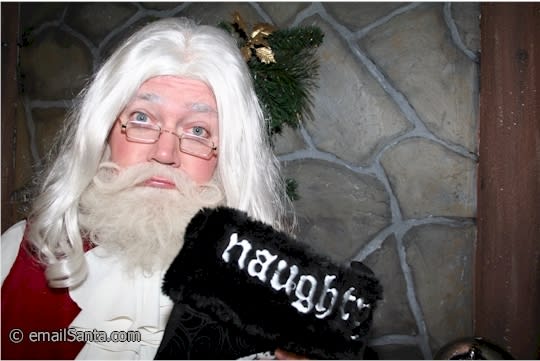 About Santa's
Naughty List
on emailSanta.com

Sherlock Elf and the scout elves at the Noddy N' Nice Elf Detective Agency don't like to do it, but they sometimes have to send reports to the North Pole for Santa's Naughty List. You can check the latest updates to the Naughty List below. Santa's Naughty List is always changing!

Sherlock Elf also has a list of bad things kids are doing right now.

You can also send a Naughty Report about someone who's being a little bad or misbehaving. Santa will put them on the Naughty List for the moment but keeps checking right up to Christmas Eve. Think of it as a Naughty List warning call for them.

Most importantly, it's never too late to get on Santa's Nice List. Hopefully everyone gets off the bad list before Christmas. Then they can leave out their Naughty or Nice List Certificate for Santa to see!
Getting On The
Naughty List
Here are the Top 10 things on Santa's Naughty List that girls and boys are doing right now. (It changes all the time)
• They didn't tidy up after themselves
• They wouldn't eat their veggies
• They didn't do their chores
• They wouldn't listen to their teacher
• They wouldn't brush their teeth
• They wouldn't share
• They were mean to their little sister
• They didn't tell the truth
• They were selfish
• They didn't play nice with a friend

If someone is doing any of these or other naughty things, then Sherlock Elf sends a Naughty Report to Santa Claus. (Find out how you can send Santa a Naughty Report too.)

Santa checks each report twice. Then it goes into his Naughty book as a warning call before Christmas.
Send A
Naughty Report
to Santa Claus
Sherlock Elf wants your help! Let Sherlock Elf know if you see someone who is being naughty or bad.

Because the elves have to check into all the reports, the elves ask for a small donation. It's what keeps this webpage safe and family-friendy. That means you have to be 18 or over to send a Naughty Report.

Click here to send a 😈Naughty Report😈 to Sherlock Elf and Santa Claus (or a 😇Nice Report😇)!