Ho! Ho! Ho!
Why, it must be Santa, must be Santa, must be Santa Claus!
Click the image or link below to download the Santa Claus Word Finder puzzle.  Then print it!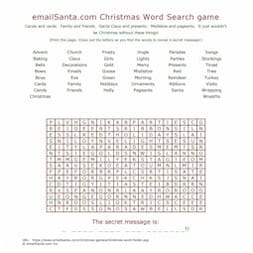 Santa Claus Word Finder Game.pdf

Find these words about Santa Claus in your Word Search puzzle.  Ho! Ho! Ho!
Beard
Bells
Belly
Big
Boys
Candycanes
Chimney
Christmas
Claus
Coal
Cookies
Elves
Emails
Eve
Fireplace
Fly
Gift
Girls
Hat
HoHoHo
Jelly
Jingle
Jolly
Kringle
Kris
Laugh
Letters
List
Magic
Mall
Merry
Milk
MrsClaus
Naughty
Nice
Nick
Noel
Northpole
Presents
Red
Reindeer
Rooftop
Rudolf
Saint
Santa
Sky
Sleigh
Stockings
Suit
Toybag
Toys
Twinkles
Workshop
Find all the words about Santa Claus on your puzzle sheet.  The words are listed above and on the game sheet.  Cross the letters off on your game sheet as you find the words.  Write the left-over letters in the blank spaces at the bottom of the puzzle to reveal Santa's Secret Message!
Here are all the other Word Search games on emailSanta.com. Some of these Word Find games are on-line, some Word Seeks are downloadable. Some FindaWord puzzles are easy, some WonderWords are hard. But all of these games (no matter what you call them!) are full of Christmas fun.