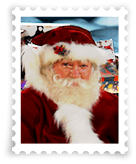 I'm Santa's Grumpy Elf (and I'm still grumpy because of all these questions I have to answer!)
Where Is Santa Claus now? I guess that depends where you left him! Oh, I sleigh me with that silly joke! Ok, ok, can't a grumpy elf tell a joke?!
So where is Santa Claus right now? Oh oh! Santa Claus is in his office checking his map. Either he's seeing where an elf is, or he got a Naughty Report about someone and is looking to see where they live!
(You aren't on the Naughty List are you? You can check if you are Naughty or Nice and print a certificate to leave for Santa)
If you want to know where Santa Claus is, these will also help you find him:
Find out where Santa Claus is any day of the year:
Find out where Santa Claus is on Christmas Eve: