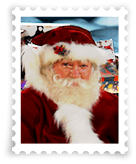 I'm Santa's Grumpy Elf (and I'm still grumpy because of all these questions I have to answer!)
Where Is Santa Claus now? I guess that depends where you left him! Oh, I sleigh me with that silly joke! Ok, ok, can't a grumpy elf tell a joke?!
So where is Santa Claus right now? Right now, Santa Claus is just chillin' in his office at the North Pole!
Of course, when you live at the North Pole, you do a lot of Chillin'!
(That's one of Santa's silly jokes)
If you want to know where Santa Claus is, these will also help you find him:
Find out where Santa Claus is any day of the year:
Find out where Santa Claus is on Christmas Eve: