Oh no! The webcam has been grinched!
The elves are very sorry, but the live webcam of Santa at the North Pole isn't available right now.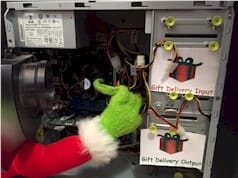 It's my new webcam!
I think it's the bomb.
Now everyone can watch me
On emailSanta.com!

So why little sugarplums did I do it?

I thought people'd like to see my office...
up at the North Pole.
We have a wild and crazy party time...
Up here after all!

Why it's as crazy as a fruitcake in July!
Sometimes you even see
elves bouncing by!
Jumping Jingle Bells,
they like to play tricks on me
If you tune in,
you will soon see!

I do love my helpers though,
my reindeer helpers too
They love to fly by
and look in my window
To see what it is that I do

But they don't come in
the office of course
They'd get stuck in here
They're as big as a horse!

And all the children when they look at my webcam
Are going to think they're watching one great big party
A Christmas party that is!
Ho Ho Ho

Oh I do hope the children enjoy watching me,
And they don't tell anyone about how many cookies I sneak!

Now where is that button that turns off the sound?
That way I won't get into any more trouble!

Check out more fun things to do at emailSanta.com, like seeing what everyone at the North Pole is tweeting & texting to each other!
Click here for more Fun Things to Tweet on emailSanta.com!
SPECIAL! Snoop on Santa Christmas Eve at emailSanta.com! (The elves call it the Santa Snooper!) Click here to see Santa's Christmas Eve Santa Tracker right now!
You can be a Santa tracker every day of the year right here! You can also get a reminder to come back to emailSanta.com closer to Christmas. Come back Christmas Eve Day &EVERY day to watch Santa & his reindeer LIVE on the Santa Webcam! You can also help "Elf Control" track & talk to Santa Claus on his famous flight & send him emails!