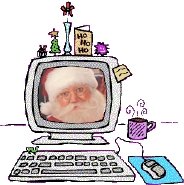 HO!! Ho!! ho!! The reindeer and elves love making and playing Christmas games. They really had a lot of fun making these special games of "YuleSearch" just for you to enjoy! (They thought "YuleSearch" was a funny name too *wink*).
Directions: Find a Christmas subject you like below and click on it to go to a puzzle. Print the page and then find the words in the puzzle. All the words listed on the page will be found in the puzzle, going either up & down, side to side, diagonally or even backwards (those elves sure can be sneaky)!
When you find a word in the puzzle, circle each letter (or use a highlighter) and then check the word off the list. (It's easier if you find the big words first). In some puzzles, the words in the list are joined by an underscore ("_"). These words appear together as one word in the puzzle.
Remember, some letters may be used in more than one word. And, the left over letters in the puzzle solve a secret message from Santa!
Easier Word Find Games:
All About Santa Claus
All About Santa's Reindeer
Christmas Nativity
Christmas Music, Stories, Movies and TV Specials
It's Beginning To Look A Lot Like Christmas!
Mrs. Claus' Christmas Cooking


More Difficult Word Find Games:
What people call Santa Claus around the world
What people call Santa Claus around the world, part 2
How people say "Merry Christmas" around the world
How people say "Merry Christmas" around the world, part 2