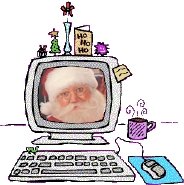 After you send your letter to Santa, you're surely not done. Honestly now, the game's just begun! The elves have been busy. The reindeer are too. There's really so much to read, see and do ! Cards and great letters. Time is so tight! There's Rudolph ! All ready! For the world's biggest night!
Have a good holidays... and don't forget to write now! (*wink*)


•Å•
memo •
• so merry!
A note • to St.
Nick! A mistletoe
• missive • sent • by •
• jolly • mouse • click!! •
• Write a • letter to Santa •
• and he will reply, faster than •
• red • nose • reindeer •
CAN
FLY!!