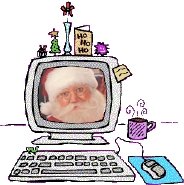 Rudolph and the elves love watching and listening to all those great Christmas TV shows, movies and records. For fun, Santa Claus started quizzing the elves and next thing you know, there was a full blown game of Christmas Trivia underway! It was so much fun the elves said they just had to share it with you! So here's your chance to match wits in some light-hearted Christmas Trivia!

Instructions: Click on a Christmas Quiz in red below to begin. Quizzes are never the same so you can do it as many times as you like! Click on the answers and then on "Display Score" to see how you did. If you need help or you want to see the correct answer, click on "Show Answers".
The "Fun Christmas Trivia Quiz for Kids game" is funny, easy and intended for the whole family.
The "Christmas Shows, Christmas Songs & Christmas Stories Trivia Quiz" is moderately difficult (depends how well you know your Christmas TV shows, movies, songs and stories! *wink*).
The "All About Christmas & Santa Claus Trivia Quiz" can be quite difficult and is intended for anyone who *really* thinks they know the whole story behind the Yule season and Saint Nick!
Merry Christmas!