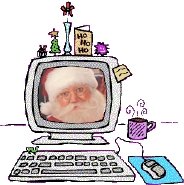 "Season's Greetings to all and to all this website!"
HO! Ho! ho! Well, maybe Santa Claus better be good and spend his time delivering presents around the world instead of trying to write poetry (*wink*), but Santa & Rudolph do hope you enjoy their colourful website. There's lots to do including games to play, jokes and Christmas trivia too. And don't forget about sending Santa your letter or Rudolph your pet's letter. Most importantly though, this site is about the spirit of Christmas !
Happy Holidays Everybody!!


Ô
It•s
a • time
for family,•
a • season • for
• friends! • It's the
most • wonderful • time
of the year,• Christmastime
• is here! • And if • Christmas •
• is • what • you're • looking for, •
• you've • found • Santa's • favourite •
• site • of • good • ol' Yuletide • cheer! •
Merry
Christmas!